Employee Spotlight: Have You Met Jamar?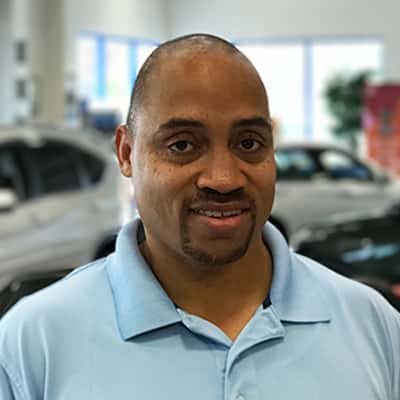 This month, we get to know Jamar Gregory, Finance Manager here at Bianchi Honda. Have you met Jamar?
Tell us a little about yourself:
I am married with 5 children, I'm a Steelers fan, and I get to fly Delta Airlines free.
What do you do here at Bianchi Honda?
After a customer selects the perfect vehicle, I match them with the bank with the lowest financing in which they qualify, and offer the best protection packages for new vehicles.
What do you like to do outside of work?
I like to spend time with family, watch sports, work out, and golf.
What's something that most people don't know about you?
I have 3 grand children.
What is your favorite sport?
Football. I've participated in sports since I was 6 years old as a player and coached for several years after finishing my college career. I have a great understanding of the game.
What's on your bucket list?
To spend a week or more in Hawaii.
What's your favorite vacation spot?
West Palm Beach. I love hot weather and seeing friends that live there.
Where is your favorite place to eat?
Hibachi. The food is great (prepared in front of you) and they have good portions and presentation.