Employee Spotlight Tomas Brizuela
This month for our Employee Spotlight, we get to know Sales Consultant Tomas Brizuela.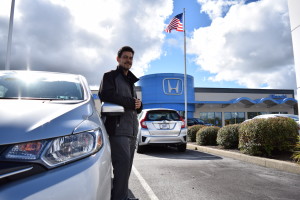 Tell us a little about yourself:
My wife and I have been married for over 15 years, and I am a father of 3. I love people and I'm pretty competitive. I play poker, golf, and chess. There is only 1 rule, I will not lose!
What do you do here at Bianchi Honda?
I help people. I started selling cars here on September 1st, 2016!
What do you like to do outside of work?
Study, play with the kids, and then study some more. I study a lot!
What is your favorite sport?
Football. In the neighborhood I grew up in, we played football everyday.
What's on your bucket list?
To see my kids do well in life.
Where is your favorite place to eat?
McDonald's, because of the 2 for 3 sausage McMuffins!
What's your favorite vacation spot and why?
Any big city because there are a lot of people.