Free Customer Car Wash at Bianchi Honda
One of the best perks to buying at Bianchi Honda is the Free Customer Car Wash! The car wash is available to anyone who purchases a new or pre-owned vehicle for the duration of ownership. Drivers that have not purchased their car from Bianchi Honda may stop at the Service Department to purchase a wash at a cost of $9.99 (plus tax) per wash.
Car Wash Hours:
Mon/Tues/Thur: 7:30 am-7:30 pm
Wed/Fri: 7:30 am-5:30 pm
Saturday: 9:00 am-4:30 pm
NOTE: The car wash will be closed whenever the temperature is below 38 degrees.
Please check our Car Wash Widget here or call us at (814) 868-9678 to see if it is open.
---
How to Use the Car Wash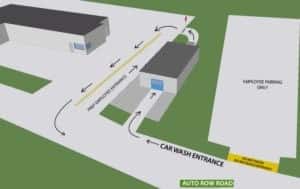 Step One:
Enter the dealership premises via Auto Row and drive to the car wash entrance, which is the fourth inlet along auto row. PLEASE DO NOT BLOCK THE ENTRANCES ALONG AUTO ROW.
Step Two:
If your vehicle has an antenna, such as the older Honda CR-V models, be sure to remove it before entering the wash. Ensure that all your windows are up and if equipped, your moonroof is fully shut. Bianchi Honda is not responsible for any damages.
Step Three:
If there is another car in the wash, allow it to clear the air dryers before you proceed. Drive your vehicle into the empty wash bay, lining up your front left tire with the activation pad on the floor of the car wash. Incorrect placement may cause damage to the wheel. In the wash on the left-hand side, a green "traffic" light will turn red when your vehicle is in the correct position in the wash. Leave your car on and place your vehicle in park or neutral.
Step Four:
The car wash will take about a minute and a half. Wait until the wash has come to a stop and the "traffic" light has turned yellow. At that time, the air dryers will turn on and you may proceed slowly out of the car wash bay.
Step Five:
Upon exiting the car wash, stop at the stop sign and watch for traffic from all directions before proceeding left into the parking lot and back onto Auto Row. Place your antenna back on your vehicle when you're in a safe place to stop and do so.
If you are unsure of how to use the car wash and need assistance, you may go to the Prep Department to ask for someone to help you. Drivers that have not purchased a car from Bianchi Honda may stop at the Service Department to purchase a wash at a cost of $9.99 (plus tax) per wash.