It's Tailgate Time at Bianchi Honda!
With football season kicking off, it's the perfect time to tailgate with family and friends. Whether you're rooting for the Pittsburgh Steelers, Buffalo Bills, or Cleveland Browns, nothing beats grilling and chilling before a big game. Bianchi Honda wants to make sure your tailgate is tail-great so we've decided to offer up the ultimate tailgate kit! Read ahead to learn more about our giveaway contest as well as some useful tailgating tips.

Contest ends September 30, 2022. No purchase necessary to enter or win.
The Bianchi Honda Tailgate Kit:
A YETI 35-Can Cooler
Two 20 oz. YETI Tumblers
A Set of Camping Chairs
A $50 Giant Eagle Gift Card
Stop into our showroom to enter!
---
Tailgate Tips and Tricks
Do your research!
If you're not tailgating at home, make sure the venue or stadium allows for tailgate parties in their parking lots. If it is allowed, review their open-container and open-flame policies for compliance purposes. It's also important to check the weather in case you need to bring any umbrellas or tents.
Plan to arrive early!
Find out what time gates open and what time you'll want to be seated for the game, and schedule your tailgate accordingly. It's commonly suggested to arrive at least 4 hours early. This gives you plenty of time to find a good parking spot, set everything up, and clean everything up before the game.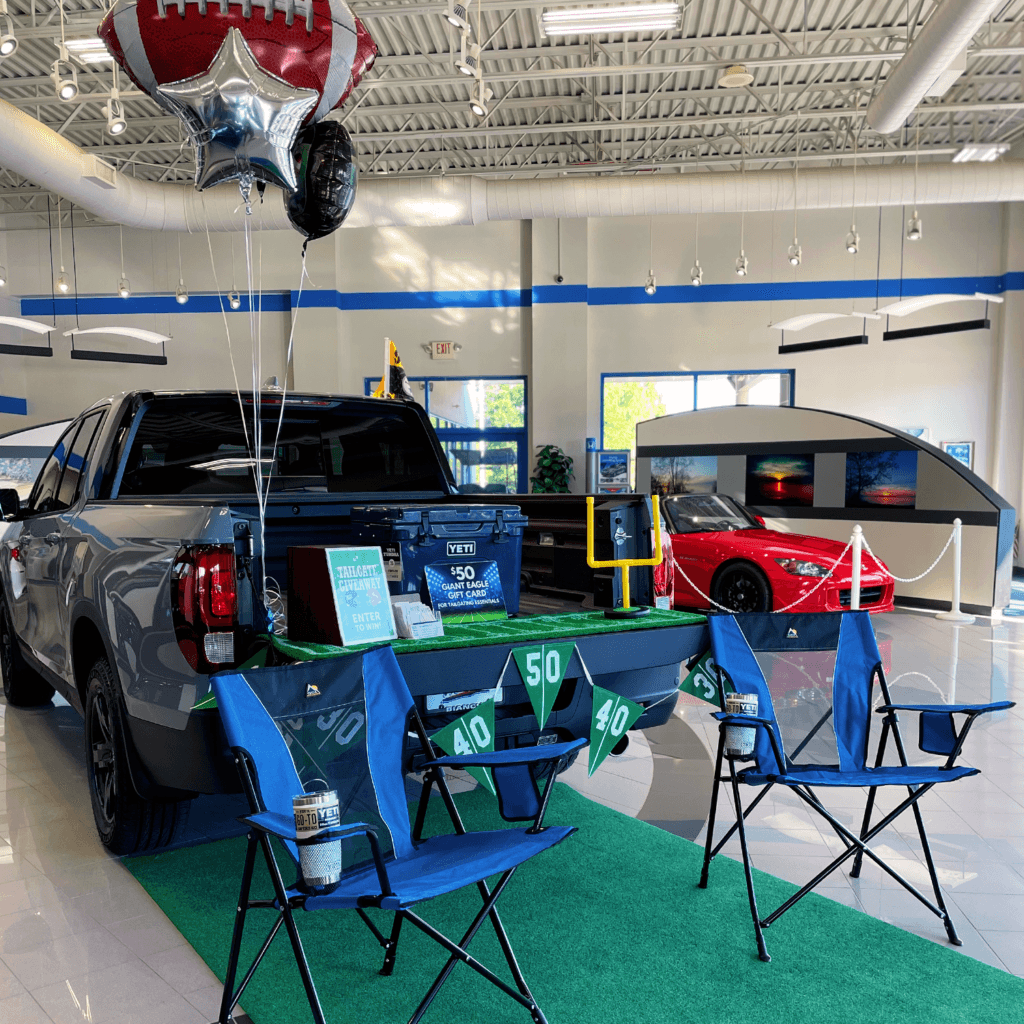 Remember the two P's: Prep and Pack!
Prepare foods like kebabs or burgers the night before so they're ready to go as soon you light the grill. Pack tailgate essentials such as spatulas, tongs, paper towels, trash bags, condiments, seasonings, and so on. Stock your drinks and snacks in a cooler, too. Alternatively, you can use your Honda Ridgeline's in-bed trunk as a cooler which has a convenient drain plug for when you're all done.
Play some music!
Tailgates are often loud and rowdy, so be sure to bring a speaker with you. The Ridgeline RTL-E and Black Edition also have a fantastic truck-bed audio system that you can play music through via bluetooth.
And, of course, don't forget to enter our Tailgate Giveaway for a chance to win the ultimate tailgate kit!
The grand prize includes a YETI 35-can cooler, two 20 oz. YETI tumblers, a set of camping chairs, and a $50 Giant Eagle gift card.