Service Drive Expansion Update…
We are excited to announce that the first half of our service drive expansion is complete!
To more efficiently receive our customers during their service appointments, the service drive has doubled in size and will include new state of the art technology not seen in any local dealership in Erie, PA. With the front half of the service drive complete, we are now starting construction this week on the remaining back half. To make it easier for you we have included a map below which details the steps to take when coming in for your service visit.
Please see the following map and steps to enter the service drive while it's under construction.
We appreciate your continued understanding and patience while this construction is finalized on the growing service department.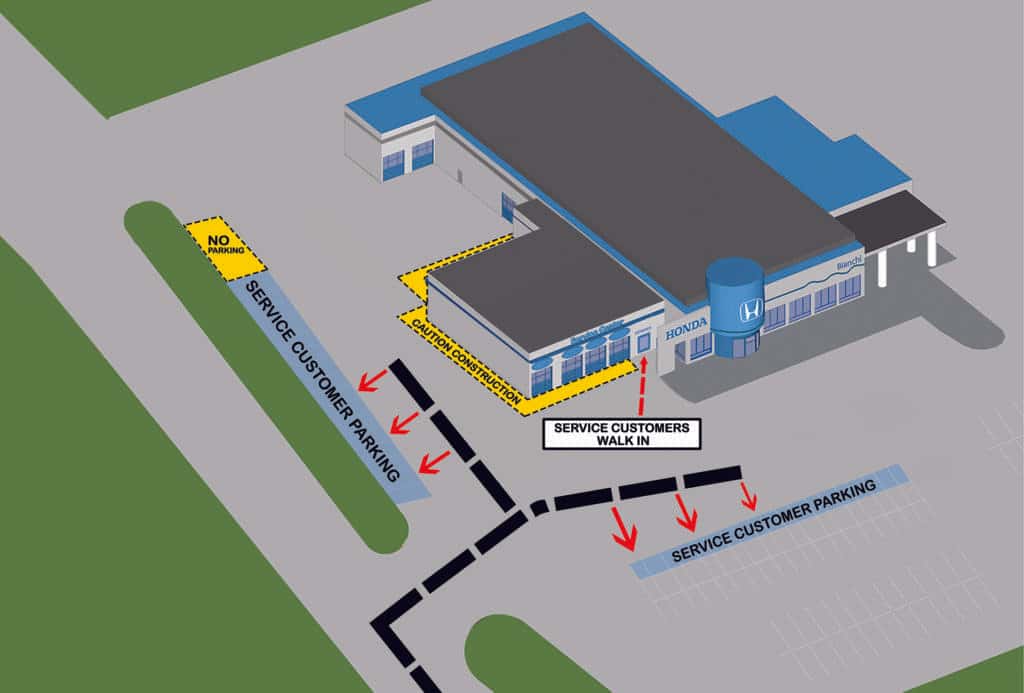 Service Department Directions and Steps
Step One:
Enter the dealership by way of Auto Row and drive to the first entrance on the right hand side. If you enter the premises through the North entrance of the dealership, proceed along the front of the building as the service department will be located on your right.

Step Two:
As you enter on your first right you have the option of multiple parking spots located in front of the dealership. Observe the signs and guides in the area, and please do not park in no parking zones.
Step Three:
Walk to the Service Drive (following the red arrow path from the service customer area parking as shown on the map above) and enter any of the open doors to the Service Drive.
Step Four:
An available Service Adviser will welcome you to your appointment, go over everything being serviced during your appointment, and keep you updated every step of the way. You are welcome to enjoy our waiting area amenities and refreshments at this time. When your appointment is over, your Service Adviser will let you know and assist you with your checkout at the cashier's desk.
Step Five:
When you are ready to leave, exit through the Service Drive to the customer parking area to retrieve your vehicle. Exit the parking lot by proceeding back out of the customer parking lot and making a left onto Auto Row. From there, you may exit left or right onto Peach Street to your next destination.
We would like to say thank you to our loyal customers for your patience during the transition of our growing service department. During this transition all service hours will remain the same. (M-F: 7:30am – 5:30pm, Sat: 8:00am – 4:30pm) To schedule service please contact one of our Service Schedulers at (814) 864-6765 or schedule online at BianchiHonda.com