American Honda Dominates Cars.com 2019 American-Made Index
Honda Odyssey, Ridgeline, Passport and Pilot, and Acura MDX and RDX make top 10
Honda Accord is one of only three passenger cars to rank in the 2019 index
Almost two-thirds of Honda automobiles sold in the U.S. are made in America
Nearly 99 percent of Acura vehicles sold in U.S. are made in America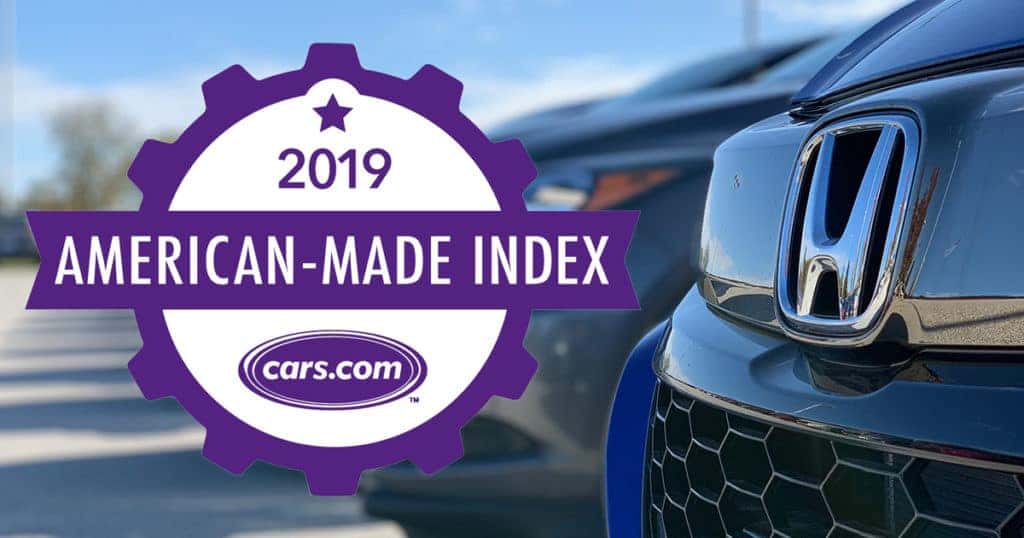 As Honda prepares to celebrate 40 years of making products in America this September, Cars.com has determined that six Honda and Acura models belong on the top-ten list of its 2019 American-Made Index. The American Honda vehicles making the list are the 2019 Honda Odyssey minivan, Ridgeline pickup, Pilot and Passport SUVs, and the 2019 Acura MDX and RDX luxury SUVs. In addition, the Honda Accord ranked 14th, and is one of only three passenger cars in the top 15. Nearly two-thirds of the Honda and 99 percent of the Acura vehicles American Honda sells in the U.S. are made in the U.S., at its plants in Ohio, Indiana and Alabama1, the second highest percentage of all automakers.
Each of the Honda and Acura models included in the Cars.com 2019 American-Made Index Top 10 was designed and developed by Honda R&D Americas, Inc. in Ohio and California. The Honda Odyssey, Ridgeline, Pilot and Passport are produced exclusively by Honda Manufacturing of Alabama in Lincoln, Alabama, while the Acura MDX and RDX are produced at the Honda of America Mfg. East Liberty Auto Plant in Ohio.
"In a year in which Honda is marking our 40th year of building products in America, we're proud to have six Honda and Acura vehicles among the top ten in the Cars.com Made in America Index," said Rick Schostek, executive vice president of Honda North America, Inc. "Honda is committed to building products close to our customers and this recognition really puts the spotlight on the more than 31,000 associates and over 600 suppliers in America who make that happen every day."
Cars.com assesses several factors or the American-Made Index: assembly location; domestic-parts content; U.S. factory employment adjusted by sales; engine and transmission origin; and for ties, heavier curb weight is considered. More information about the "Cars.com 2019 American-Made Index" can be found at www.cars.com/american-made-index.
Winning Vehicles
2019 Honda Odyssey (Lincoln, Ala.)
2019 Honda Ridgeline (Lincoln, Ala.)
2019 Honda Passport (Lincoln, Ala.)
2019 Acura MDX (East Liberty, Ohio)
2019 Honda Pilot (Lincoln, Ala.)
2019 Acura RDX (East Liberty, Ohio)
2019 Honda Accord (Marysville, Ohio)
Honda Manufacturing in the U.S.
Honda has one of the largest and most diverse U.S. manufacturing footprints of any international company operating in America. Honda has been producing automobiles in America for more than 35 years and currently operates 12 major U.S. manufacturing facilities, employing more than 20,000 associates in the production of Honda and Acura automobiles, Honda power equipment products, Honda Powersports products, the HondaJet advanced light jet and GE Honda HF120 turbofan engines.
In 2018, Honda produced more than 1.2 million automobiles in the United States, and 65 percent of all Honda and Acura automobiles sold in the U.S. were made locally, using domestic and globally sourced parts.
Cumulatively, Honda has invested more than $20 billion in its U.S. sales, manufacturing and R&D operations, including more than $5.9 billion in new investment over the past five years.
---
1 Using domestic and globally sourced parts.