Honda Dominates 2019 Kelley Blue Book Best Buy Awards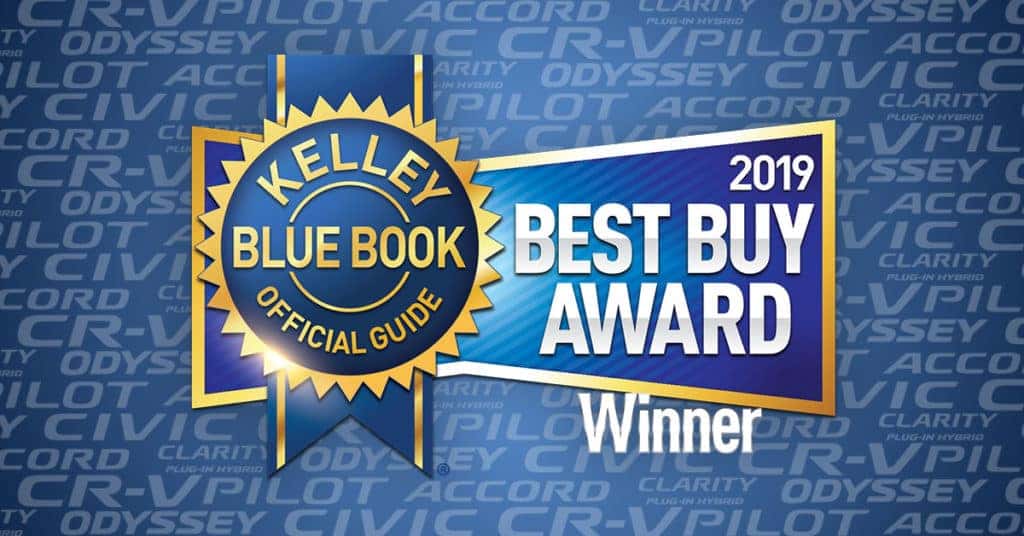 – TORRANCE, Calif. – HondaNews.com
Civic owns Compact Car category with fifth straight win
Accord, CR-V, Pilot and Odyssey all lead their segments for 4th time
Clarity Plug-In Hybrid is repeat winner in Electric/Hybrid Car category
Honda cars and light-trucks once again dominated the Kelley Blue Book Best Buy Awards for 2019. Leading the industry with six categories of wins including Civic, which took top honors for a fifth straight time, Honda maintains an unbroken winning streak in the Compact Car category since KBB launched its Best Buy Awards in 2015. Additionally, Accord, CR-V, Pilot and Odyssey have won their respective categories four times in the past five years, while the Clarity Plug-In Hybrid received a second straight award – the best buy in the Electric/Hybrid category.
Honda's 2019 KBB Best Buy Award wins include:
2019 Honda Civic: Compact Car – KBB noted Civic for its fuel efficient engines, affordable price, reliability, and retained value. (5-time winner)
2019 Honda Accord: Midsize Car – praised for being "the most sophisticated, most advanced, and most impressive automobile not wearing a luxury badge". (4-time winner)
2019 Honda CR-V: Compact SUV – accolades for CR-V include its appeal with first-time buyers and those looking for mainstream luxury. (4-time winner)
2019 Honda Pilot: Midsize SUV – Pilot's family friendly attention to detail helped it win this category against stiff new competition. (4-time winner)
2019 Honda Odyssey: Minivan – KBB praised Odyssey for its numerous safety features and family-friendly design. (4-time winner)
2019 Honda Clarity Plug-In Hybrid: Electric/Hybrid Car – touted for its excellent driving dynamics, KBB recognized the Clarity's flexibility and appeal with EV fans and roadtrippers alike. (2-time winner)
Kelley Blue Book's Best Buy Awards are the result of a year-long process of expert evaluation and testing of nearly every new vehicle available in the U.S. Criteria include vehicle pricing, 5-Year Cost-to-Own data, consumer reviews and ratings, and vehicle sales information. For more information, see KBB.com.
About Honda
Honda offers a full line of reliable, fuel-efficient and fun-to-drive vehicles with advanced safety technologies sold through over 1,000 independent U.S. Honda dealers. The Honda lineup includes the Fit, Civic, Insight, Accord and Clarity series passenger cars, along with the HR-V, CR-V and Pilot sport utility vehicles, the Ridgeline pickup and the Odyssey minivan.
Honda has been producing automobiles in America for more than 35 years and currently operates 19 major manufacturing facilities in North America. In 2017, more than 90 percent of all Honda brand vehicles sold in the U.S. were made in North America, using domestic and globally sourced parts.
# # #