Porreco Pride of Erie Tips Off January 23rd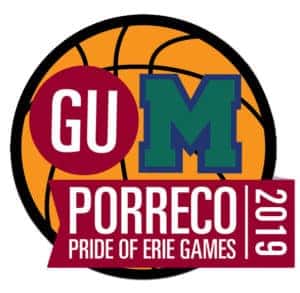 A show of sportsmanship and competition is upon us.  The Porreco Pride of Erie Games are a continuation of the Porreco Cup Tournament that was played each December from 1974 through 2013. In 2016, the Mercyhurst University and Gannon University men had their first face-off in the Porreco Pride of Erie Games. The women joined in on the fun in 2018.
The Porreco Pride of Erie Game celebrates the spirited tradition of the rivalry with two eventful basketball games, giveaways, contests, and a trophy presentation. Two gold basketball trophies (currently in possession of the Gannon Women's and Men's teams) are given to the winning team of each game to display until the next contention. A Game Changer trophy is also awarded to the player in each contest who had the most impact on the outcome of their game.
"Both schools would like to thank Jason Porreco and the entire staff at Bianchi Honda for helping us continue this great tradition. Jason has been extremely supportive of the endeavor, and we can't express enough how much we appreciate him helping us truly make this premier event in Erie each year."

– Dave Rung, Director of Athletics for Media Relations, Gannon University
Porreco Pride of Erie Game Schedule
Tickets the series will be available at the Athletic Center on the day of the game.
January 23rd at Mercyhurst Athletic Center
Women's Game: 5:30PM
Men's Game: 7:30PM
February 23rd at Gannon University (Student Senior Night)
Women's Game: 5:30PM
Men's Game: 7:30PM